Systems supplier Bruckner presents efficient solutions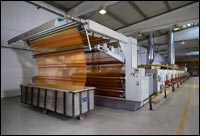 BRÜCKNER, supplier of line systems will present on TEXTILE ASIA (Pakistan) the main products of its portfolio which have been technologically optimised compared to ITMA 2007-. As supplier of modularly matched finishing lines BRÜCKNER is in an international top position.

The company is domiciled in Germany, where they develop and produce "made in Germany". Technologists who are experts in process technology advise the customers in all aspects of the dry textile finishing process.

POWER-LINE split-flow stenter - now even more efficient and profitable:
With a new process technology for air circulation around the fabric, BRÜCKNER improved its split-flow air circulation technology further and made their POWER-FRAME stenter even more efficient. This new technology together with an optimised insulation allowed to reduce clearly the energy consumption. BRÜCKNER uses in the new POWER-FRAME also the proven air system alternating in each half of any compartment.

Adapted to the process, the upper and lower air flows are controlled separately by two speed-controlled fans in each compartment. This leads to an ideal temperature distribution and to an extremely homogenous and gentle air impingement on the fabric web. This system, patented by BRÜCKNER, allows an unlimited finishing even of the most demanding fabric types, for example the heat-setting of polyamide with high elasthane contents.

Connecting the POWER-FRAME stenter to a user-friendly process visualization system ensures a fast reproducibility of production data. Special software for efficient styles and recipe administration ensures the uniform fabric quality.