Andritz Kusters to unveil latest technologies at Index 08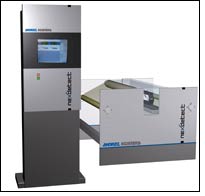 Much has changed at Küsters in Krefeld since the Index 05: The family owned Eduard Küsters Maschinenfabrik is now Andritz Küsters, an enterprise of the publicly listed Andritz Group, with its head office in Graz/Austria.

Both Andritz Küsters business areas Paper and Nonwoven have been integrated into the internationally successful technology company: With Andritz as a compelling partner the product range in the nonwoven sector could be markedly developed and expanded.

The motto for the Index 08 "nonwoven excellence – from forming to finishing" signifies the enterprise's pledge to deliver comprehensive solutions for the nonwoven industry to an increasing extent.

In addition to their reputation as calendar specialists Andritz Küsters have, in the meantime, through process competence in the wet finishing of nonwovens, made their mark.

Depending on the area of application the core competence of Andritz Küsters wet finishing are the Kissroll technology excises, the padder technology for the high speed operation neXchem, the high efficiency dewatering technology macaque, as well as custom-tailored concepts for liquor supply and handling.

Andritz Küsters designs finishing lines from unwinding via finishing aggregate right down to dryer, condensation and winding.

The exhibit neXdetect is the special highlight from the area of wet finishing which Andritz Küsters presents at the Index. The measuring technique, for which a patenthas been applied, is a breakthrough achieved by Andritz Küsters in the detection of stripe applications on nonwovens. For producers of nonwovens with hydrophilic stripes for the hygiene industry this does not merely mean making the task easier, it also means quality improvement and a marked cost reduction in production.

The latest addition to the product range are lines for wetlaid nonwovens production. A wetlaid nonwoven lab line has recently been installed at the Andritz Küsters Technical Centre, which offers interested customers the chance to conduct basic trials or individual product developments.