New Central America source for Dri-release with FreshGuard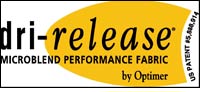 Optimer Performance Fibers has signed a licensing agreement with Textufil, of San Salvador, El Salvador, C.A. to produce their Dri-release with FreshGuard patented moisture management technology.

Textufil will be the first source for Dri-release in Central America, opening up costing and logistics advantages in the region for Optimer's customers. C.A.'s Attractive export processing legislation, tax exemptions, a well-trained labor force and proximity to U.S. ports make it an attractive location for textile and apparel sourcing.

Dri-release customers will also be able to take advantage of Textufil's standing relationships with garment production facilities located in Honduras and Guatamala.

Founded in 1972 and privately owned by the Bahaia family, Textufil began as a thread supplier. Today it offers a full line of yarns, threads and finished fabrics. Initially, Textufil will offer polyester/cotton finished fabrics with their Siro Dri-release yarn.

It will then add other Dri-release products including new Dri-release E.C.O. (Environmentally Correct Origins) yarns.

Optimer Performance Fibers, based in Wilmington, DE, is a textile research, development and marketing company. The company, founded in 2001, has a scientific staff credited with over 100 patents and developments.

Dri-release is a registered trademark of Optimer Performance Fibers. It is a patented, intimate blend of hydrophobic and hydrophilic fibers that accelerate the water release rate of a fabric when wet.

TEXTUFIL S.A. de C.V.