Carpet expo to celebrate Museums anniversary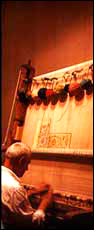 A carpet exhibition is beginning at the Carpet Museum of Iran from tomorrow which will continue till February 10. The Museum, with its beautiful architecture and facade resembling a carpet-weaving loom is located on the northwest of Laleh Park in Tehran.

Around thirty carpets having the images from Persian literature and calligraphy of Persian poetry will be at display for the visitors.

The authorities have decided to name the expo 'Classical Persian Literature and Carpets'. The reason behind holding the event is to celebrate the 30th anniversary of the museum.

The Carpet Museum in order to revive and develop the art of carpet-weaving, exhibits a variety of Persian carpets from all over Iran, dating from 18th century to present.