Heavy-weight sponsors sign up to Packaging Summit Europe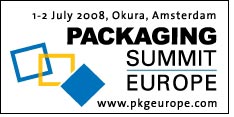 This year's Packaging Summit Europe will have the support of the industry's leading players Micro-Pact, UPM Kymmene and Smurfit Kappa Group as its gold and silver sponsors.

The event, which will take place on 1-2 July 2008 in Okura, Amsterdam, is gearing up to host many influential exhibitors and delegates of the packaging industry.

Packaging Summit Europe is considered a key event for brand owners, packaging services, manufacturing and design professionals who attend the event with the aim to network, learn about new ideas and address issues of most concern to the international packaging community.

Due to its conference format, the summit provides a content focused alternative to the world's largest packaging related events such as Interpack and DRUPA.

In an environment that facilitates social networking the summit's attendees participate in round-table discussions, debate about best practices in packaging technology and services and ask for business advice from a diversity of international experts.

This year's gold sponsors of the summit – Micro-Pact – are a conglomerate of three leading European packaging companies, LGR Emballages (France), STI Group (Germany) and Grupo Miralles (Spain).

Micro-Pact was formed in 2006 with the objective to serve major brand owners across Europe consolidating each company's ideas and values and offering to clients the knowledge of the local markets.

As the silver sponsors Smurfit and UPM are the world's leaders in their market sectors. Smurfit Kappa Group is the world's largest maker of solid board packaging.