Mrs. Sheela Dixit appreciates design skills of garment sector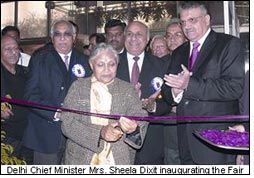 40th India International Garment Fair was inaugurated by Delhi Chief Minister Mrs. Sheela Dixit at Delhi's Pragati Maidan on Tuesday. Romanian ambassador to India Hon'ble Mr. Kjell Olsen was also present on the occasion.

Nearly 280 exhibitors displayed their products at three days mega event. Mrs. Sheela Dixit appreciated India's manufacturing and design skills of garment sector.

A total number of 571 buyers and 314 buying agents visited the fair. The response was overwhelming and the buyers were happy with the collection displayed. On day one maximum buyers turned from Spain (29). However, maximum buyer turnout was from US (78) followed by Spain (43) and Canada (35).

On 23 January 2008 Best Display awards were given by Hon'ble M.P. Shri Jagdish Tytelor. In the Women's wear category there were three recipients of the Gold Trophy- Rupayan, Traditional Gallery and Maharana of India.

In the Boutique Wear Category Ebid Garment Pvt Ltd. Got the gold trophy. Vintage Shade in the Accessories Category; East & West Handicraft Enterprises in Kids & Men's Wear and Upper Class Fashion in General Category won the Gold Trophy.

Apart from these, certificates of merits were also distributed for these categories. Fashion show was held on all the three days.

The GTZ under SME financing and development programme is looking into the cluster development of apparel sector in the NCR region.

They have already taken initiatives in capacity building, training, quality improvement programme, survey etc and they would like to undertake other activities, which include Productivity Improvement Programme, Backward Supply / Value Chain Mapping, Capacity Building / Training of Business Development Service Provider, Sensitization & Awareness Workshop, Export Promotion Programme (e.g. brand building, fashion forecasting, cross fair promotion etc.).