Austin Reed launches Stephens Brothers thru Brandhouse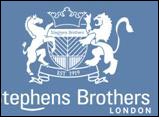 Brandhouse Retail, a wholly owned subsidiary of S Kumars Nationwide Limited announced the launch of its premium brand "Stephens Brothers" in India.

The first exclusive showroom in New Delhi's up market area of South Extension-part 1 will encompass the entire range of business attire for ladies and gentleman. The brand is expected to appeal to customers with exposure to international fashion trends.

The brand has been "impeccably English" since inception and remains till date true to highest standards of English clothing.

The line encompasses the entire spectrum of business attire with superlative fabrics and detailing. Suits for both ladies and gentlemen are crafted from the finest lightweight pure wool and pure linen fabrics that are easy to wear and comfortable through the year.

Fine acetate lining, bemberg chest pieces and coro (Chestnut) buttons are some of the elements that set Stephens Brothers suits and trousers stand out.

With Stephens Brothers first showroom opening at South Extension Part I, soon it will be available through another brand house retail exclusive showrooms in Delhi and in Mumbai, Bangalore, Hyderabad, Pune, Ahmedabad, Kolkata & Chandigarh.

The brand will be available through 20 exclusive outlets in these cities by March 2008. In India, S Kumar's Nationwide Limited is in licensing agreement with Austin Reed Group Limited for the marketing of Stephens Brothers brand.

Nick Hollingworth, Chief Executive, Austin Reed Group said; "We are delighted to be launching the Stephens Brothers brand in India.