'Tamarins Road' project using TOTAL polypropylene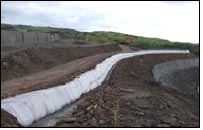 Did you know that petrochemicals are used by civil engineers when building roads and the support structures they require? A good example is the new "Tamarins Road" project on the French island of La Réunion, where a metallocene polypropylene resin manufactured by Total Petrochemicals is used to produce the geotextiles needed to stabilise the road embankments.

The "Route des Tamarins" is the largest construction project ever undertaken in the Indian Ocean zone. The long-awaited highway will relieve congestion on La Réunion's coastal road, which is now saturated with traffic.

The new highway will run from Saint Paul to L'Etang Salé, a distance of 33.7 kilometers, and will comprise two dual carriageways on different levels. The whole project has been planned with an eye to sustainable development and preservation of the landscape along the route.

Both the island authorities funding the project and the Main Roads Department responsible for its execution have called on leading landscape architects and engineering experts.

Calling on specialist advice The new road now under construction between the sea and the coastal mountains will require no less than 120 support structures, including four huge bridges as well as several interchanges and a number of roofed-over sunken stretches.

In addition, within a few kilometers of its departure point, the highway is being built on two huge embankments, 350 meters long and 4-5 meters high, stabilised with geotextiles.

These landscaped embankments, which provide a platform for the actual roadway, are being built by TenCate Geosynthetics France, which has world-renowned expertise in the construction of geotextile-reinforced structures.

For La Réunion's new highway, the company recommended its Bidim geotextile reinforcing produce with metallocene polypropylene resin offered by Total Petrochemicals.

To achieve the optimum mechanical properties, TenCate's Bidim geogrid nonwovens are produced from Total Petrochemicals metallocene resins.

Metallocenes are the latest generation of catalyst used in the polypropylene polymerisation process. This type of catalyst is also called "single site" as opposed to the older "multiple sites" catalysts.