IDS08 immerses world of trends, ideas & new products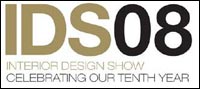 The 10th anniversary edition of The Interior Design Show (IDS08) offers more things to do and see than ever before! IDS08 takes visitors beyond the aisles and immerses them in a world of trends, ideas and new products. IDS08 will be start from Thursday, February 21 through Sunday, February 24 at Direct Energy Centre, Exhibition Place, Toronto, Canada.

Design Decadence Thursday, February 21, 7pm - 11pm:
Decadence is a not-to-be-missed whirlwind soirée. The aptly-named opening night gala celebrates the 10th anniversary of IDS in singular style. Presented by House & Home Media, it is a veritable fête for the senses, complete with lavish foods, sumptuous wines and spirits, soulful musical performances and over the top décor.

See and be seen with world famous designers, including IDS08 Guests of Honour: Tom Dixon, Arne Quinze, Winka Dubbeldam, and Larry Laslo. The gala event includes a sneak peek of DesignLIVE featuring Brian Gluckstein, Lynda Reeves, Sarah Richardson, and Allen, Matt & Anwar (The Designer Guys) and a chance to preview the outcome of Collaborations, a feature exhibit that pairs architects and designers with innovative materials.

Something for Everyone Saturday, February 23, 10am - 7pm & Sunday, February 24, 10am–6pm:
Develop your design I.Q. and take part in one of many programming options tailored to address the latest and hottest topics. Both General Public Days offer a varied palette of activities to choose from. Hear what top-designers have to say in Design Talks, meet Canadian design innovators at on-site hot spot Bar Azure and get the inside scoop from insiders and experts in workshops and seminars.