Kashmiri shawl a delight for all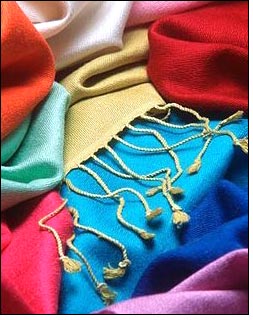 Muscat, the capital of the Sultanate of Oman, is a perfect fusion of tradition and modernity. To celebrate its art, culture and heritage it organizes Muscat Festival each year. It attracts hoards of visitors from around the world.

This year Dr Yahya Bin Mahfoudh Al Mantheri, Chairman of Majlis Addawla, inaugurated the 26 days fest on the January 21, at the Azaiba Festival Plaza. One can see the best handcrafted products from various countries like China, Russia and India.

The Kashmiri stall is pulling a lot of crowd here and is gaining all the attention. Gorgeous handicraft products from the region are showcased at the stall for the localites.

Kashmiri craftsmens are world renowned for the use of bright and colourful patterns in all the products. Be it the elegant pashmina shawls, exquisite Kashmiri embroidered jackets, bags, kurtis, kaftans or stoles all are being liked. Along with it there are woodcarvings, carpets and other items displayed by the artisans.

There is a vibrant colour palette in the collections which are teamed up with thread embroidery in bright shades. The most talked about item here is hand-made embroidered shawls in silk and pashmina which are a delightful sight for the onlookers.