Fashionable ecectro-puffs for your Valentine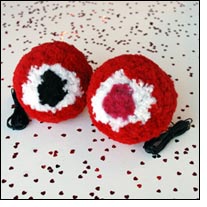 While Valentine's Day is exactly a week to go, gift shops in US and elsewhere have already started decking their store shelves with exotic gift items exclusively meant for lovers to impress their beau and vice versa.

Maggie Orth, Seattle based e-textile designer and MIT alum have come up with red, white and black e-textile gadgets and Do-It-Yourself (DIY) kits for the special Valentine's Day occasion.

Ms Maggie also caters various interactive installations titled Petal Pusher through her International Fashion Machines (IFM) company. Designed in a unique way, these gadgets tend to change in brightness when its tufted yarns, laced with conductive metal fibres, are touched.

Gone are the days of presenting mammoth cards, showering flowers, sending teddies and gifting chocolates. Electro-puffs are the fad now. Valentine ElectroPUFF is a colorful and soft five-inch pompom that connects to any bedside or table lamp, and controls light levels with a simple tap. It makes lights out fun and easy for kids. Fun loving adults will love them too. They are handmade from recycled carpet yarns.

Change your preference to electro puffs and innovative gadgets and see your Valentine beguiled by you till the next year arrives.