Fleissner to present nonwovens innovations at INDEX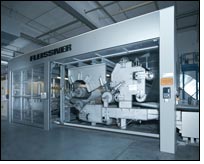 Fleissner is a system supplier for complete nonwovens production lines with hydroentanglement, binder bonding or thermofusion and additional finishing of nonwovens. At the INDEX Fleissner as usual will present technologies for production and bonding of nonwovens.

At the same time, new products for the hygiene, sanitary and medical sectors and for technical nonwovens, military garments and other uses will be shown in a large innovation and inspiration center.

1)Fleissner-AquaJet-Spunlace System for hydroentanglement of nonwovens:
The AquaJet was put on the market by Fleissner more than 10 years ago and has been used for bonding of all kinds of nonwovens from low weights (20 g/m²) to very high weights (500 g/m²) ever since.

The main focus of these spunlaced products is on nonwovens made of natural fibers, synthetic fibers and spunbond webs.

More than 80 AquaJet lines, which naturally are combined with Fleissner heavy-duty dryers, were delivered so far. The designs of AquaJets and dryers have been continuously improved.

The latest developments for product innovations, improved product quality, minimum maintenance requirements and energy saving will be presented at this fair.

- Fleissner Jumbo AquaJet with maximum working widths of up to 5 m and typical user-friendly design: Easy operation possible only from the operator side, quick change of jet strips, disconnection of suction slots not required, quick change of structuring drum shells, simple replacement of spunlace drums and perforated belts.