Complete Textile Offer, theme of ExxonMobil at 11th ITCE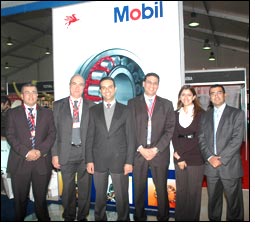 ExxonMobil Egypt is set to launch two new lubricants specifically designed for the textile industries. The launch will take place at this year's 11th ITCE International African-Arabian Exhibition for Textile, Embroidery and Sewing Machinery & Accessories which takes place in Cairo, beginning 28th February and ending on 2nd March.

Under Mobil brand, the two new products Knitting Oil T22 and Connitex E, are introduced -for the first time- to meet the needs of ExxonMobil Egypt customers who require innovative products to protect and prolong the productivity of their textile machinery in addition to securing the quality of their finished products. This new line of products meets the latest global industry standards of quality and performance.

"The manufacturing side of the textile industry are dependant on reliable and high quality lubricants, ExxonMobil Egypt is launching this line of products to ensure that need is met in an industry which is not only active but promises continued growth for Egypt's economy," said Ayman El Sabaa, Industrial and Marine Sales Manager, ExxonMobil Egypt.

Knitting Oil T22, a clear lubricant for knitting and sewing machines, offers a wide range of benefits including its transparent color which reduces the risk of fabric staining, it is also water soluble which makes it washable, thus maintaining the quality of finished products.

The lubricant's high anti-wear and anti-rust properties keep the wear of moving partsincluding needles and cams at a minimum. In addition to its balanced formula, the lubricant has proved high stability under high temperatures, and also prevents the formation of excess varnish.