Mr Craig Welsh confirms progress on mulesing alternatives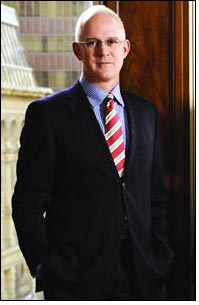 Australian Wool Innovation Chief Executive, Mr Craig Welsh, communicated the Australian wool industry's commitment to finding alternatives to the current practice of mulesing by 2010 to 190 spinners and weavers in Hong Kong.

"I am personally committed to driving this company to meet the industry's commitment."

"The manufacturers and retailers that I have been meeting throughout India, Hong Kong and China are saying that they need confidence from the Australian wool industry that surgical mulesing will be phased out by 2010," explained Mr Welsh.

"We must keep our eye on the main game and the fact is that the Australian wool industry is facing increasing retailer and consumer demand for wool from non-mulesed Merino sheep.

"It is the clear role of Australian Wool Innovation (AWI) to continue working as fast as possible to provide alternatives to woolgrowers to assist them to meet their commitment towards the 2010 phase out.

"From both an international and retailer perspective we need to listen to our customers, and the industry needs to work together to provide solutions so that we can uphold the success of Australian Merino.

"As a company that develop solutions and products, we will continue to respond to global consumer trends and drive innovation in the world of garments and fashion. We are operating in a highly competitive and dynamic marketplace and we need to assure our business partners that we are listening to their needs. We can do this if the Australian wool industry and AWI are working together to find the solutions quickly as possible," explained Mr Welsh.