Advanced Textiles to focus on latest breakthrough solutions, Berlin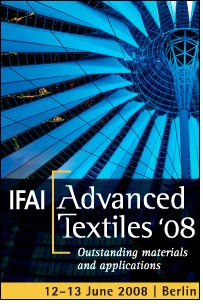 The Industrial Fabrics Association International has announced its first international symposium in Germany: IFAI Advanced Textiles 2008, June 12-13, 2008, in Berlin.

The goal of the symposium is to unveil market-ready innovations which open up new business horizons for U.S. and European companies, increasing and facilitating U.S.-European business cooperation for IFAI's international member companies.

The 1.5-day symposium will present outstanding material developments and applications in the major areas of technical textiles.

The conference will focus on the latest breakthrough solutions which also fill the practical, user-oriented daily requirements of the industry.

Topics to be covered include the major fabric application areas: from functional garments for lifestyle, active sports or professional use, health care and medical applications, architectural use and construction and the application of advanced materials in the automotive and geotextiles sectors.

"Our mission is to provide IFAI members and their business partners with the resources they need to stay ahead of competition, and we are going to supply them with the appropriate tools for and tomorrow's borderless networking," IFAI president Stephen M. Warner says. "The advanced textiles conference in Berlin is a key part of this objective."

The international operating consultancy and communication agency IHofmann, based in Wiesbaden, Germany, is planning and organizing the conference.