5th Textile Asia 2008 to be held at Karachi Expo Centre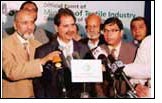 The International Textile Asia 2008 Exhibition, one of the most promising and enduring Exhibition to be held for the 5th successive year at the Karachi Expo Centre from 04 - 07 April 2008 is the official event of the Federal Ministry of Textile Industry.

The event is being organized at the most opportune time when the government is looking forward to modernize and upgrade the textile sector of the country for better quality products and enhanced productivity.

The exhibition aims to focus on the immense potential of textile and garment machinery, accessories, raw material supplies, chemicals and allied services under one roof.

Cotton is the cash crop of Pakistan. The quality of cotton and cotton related products of Pakistan are unmatched in the international markets. The ever-growing textile industry of the country has shown consistent expansion and stability over the last many years.

The exports of textile and textile products of Pakistan have shown a significant increase in the recent years. The government has offered various incentives for the industry's up gradation and modernization.

Pakistan is at the center of a rapidly developing textile & garments manufacturing region. Apart from fulfilling its local requirements, Pakistan has emerged as the textile hub of the region.

There exists a strong political will to modernize the textile sector and there is an increasing demand for compliance with ISO and other international quality certifications and standards.