GAIL achieves Excellence in Cost Management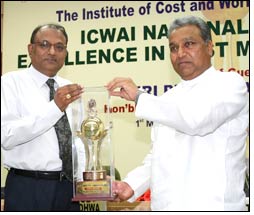 GAIL (India) Limited has once again received the National Award for Excellence in Cost Management from The Institute of Cost and Works Accountants of India (ICWAI).

GAIL's JLPL unit won the Second Award in public sector - Service category and Gandhar LPG unit won the Third Award in public sector manufacturing category of National Award for Excellence in Cost Management 2007.

In a function held at Vigyan Bhavan on 1st May 2008, the award has been received by Shri R K Goel, Director (Finance) on behalf of GAIL.

Shri Prem Chand Gupta, Hon'ble Union Minister for Corporate Affairs, Government of India presented the awards. This is the fourth time in a row that GAIL has secured the award for Excellence in Cost Management.

GAIL's units have achieved excellence in Cost Management by following the best practices and the corporate guidelines. The cost reduction has been achieved in Direct Manpower Cost by Manpower rationalization, Power, Water & Fuel Cost by reduction in Specific fuel consumption, Interest Cost due to prepayment of debt, Repair Maintenance and Stores & Spares Cost by Preventive Maintenance systems.

GAIL (India) Limited is among the "Navaratna" enterprise of India. It is one of the outstanding public enterprises in the country and has recorded excellent growth and performance over the years.

The several initiatives like Budgetary Control System, Proper costing system, Inventory Management System, Benchmarking, ERP systems, E-banking, Working Capital Management, Corporate Planning, TQM, and Strategic Sourcing etc facilitate GAIL to achieve the excellence in cost Management.