METabolic EXplorer obtains its first samples of PDO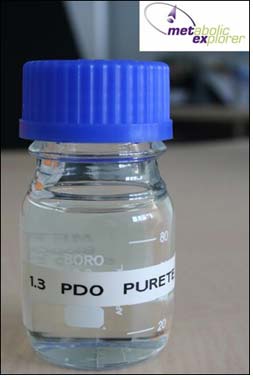 METabolic EXplorer, the industrial biotechnology company focused on the bioproduction of bulk chemicals (green chemistry), announced that it has obtained the first samples of one of its proprietary products, PDO (1,3-propanediol). These samples, with a purity above 99.5%, have been produced by fermentation of crude, industrial glycerol (a direct byproduct of the industrial biodiesel production), followed by a proprietary, patent protected purification step.

For each of its proprietary products, METabolic EXplorer is implementing a preindustrialisation approach which incorporates the optimization and pilot-scale validation of a biomanufacturing process based on the use of renewable industrial feedstocks.

In parallel with its in-house bioprocess development on an industrial pilot scale, METabolic EXplorer has chosen to subcontract development of the purification process to Processium, a specialist process engineering company. This approach highlights METabolic Explorer's intention to take account of the important purificationrelated issues as far upstream as possible in bioprocess development.

PDO is used in the manufacture of polymers (such as high-performance polyester textiles), cosmetics, personal hygiene products and industrial applications of glycols.

The potential worldwide market is estimated at $3.5 billion. Olivier Nore, VP Industrialisation at METabolic EXplorer, commented: "Obtaining these first PDO laboratory samples after lessthan six months of development work is a significant milestone and one which validates the company's ability to industrialize its products.