Soaring cotton prices hamper industry's performance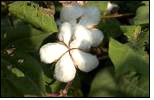 The Cotton Advisory Board at its meeting held on 17th May 2008 has estimated a record and bumper cotton production of 315 lakh bales for the year 2007-08.

The predominantly cotton-based Indian textile industry had been performing extremely well during the years 2003 to 2007, mainly due to the adequate availability of good quality home grown cotton.

But during the year 2007-08, apart from various other factors like sudden appreciation of rupee against US dollar, escalation in bank interest rate, slump in the local and export markets, the abnormal cotton price has totally paralysed the performance of the textile industry and in scenario, even the top ticket mills are incurring cash losses.

In a press release issued, Shri J.Thulasidharan, Deputy Chairman, The Southern India Mills' Association, has appealed to the Government to immediately intervene and take necessary steps and make the Indian textile industry to derive benefit out of the home grown cotton.

He has stated that unlike previous years, this year many multi national cotton traders have entered into the Indian market and dominated the cotton purchases from the beginning of the season.

They have covered all good quality cotton not only for export purpose but also for selling the cotton in the domestic market.

In scenario, though the spinners are ready to pay the price, the traders are speculating the cotton prices and refusing to sell the cotton to the domestic spinners.