'Oriental Fascination' & 'Beauty of China' – theme of Watch & Clock Fair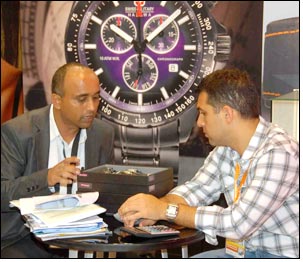 The HKTDC Hong Kong Watch & Clock Fair 2008, the world's largest watch and clock fair, will be held from September 03 to September 07, 2008, at the Hong Kong Convention and Exhibition Centre.

The event will reaffirm Hong Kong's leading position in the global timepiece export markets and will provide a perfect international platform for sourcing high-quality watches and clocks.

Jointly organised by the Hong Kong Trade Development Council (HKTDC), the Hong Kong Watch Manufacturers Association Ltd, and the Federation of Hong Kong Watch Trades and Industries Ltd, the annual fair is again expected to gather over 800 prominent exhibitors including major brands such as Hong Kong's Peace Mark Ltd; France's Time & Diamond SA; and the Netherlands' S Weisz BV.

The event attracted 800 exhibitors from 18 countries and regions in 2007; with more than 16,000 buyers coming from 100 countries and regions.

The five-day fair will highlight Hong Kong's leadership in the global timekeeping markets. The country was the world's second largest exporter of complete watches and clocks in terms of value and quantity in 2005, and exported USD 6.4 billion worth of timekeeping products in 2007, representing a 6 per cent increase over 2006.

Other highly-anticipated event highlights are parades with live models showing exhibitors' products; the widely popular Asian Watch Conference; and the 25th Hong Kong Watch and Clock Design Competition.

"The Hong Kong Watch and Clock Design Competition works to enhance the design and quality of Hong Kong-made watches and clocks.