Hastens opens first store in the Distillery District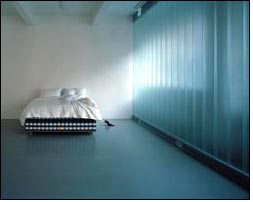 Swedish bed maker Hastens has recently opened a 6000 square feet showroom in the historical Distillery District, downtown Toronto.

This internationally known, family owned company has marched to their own drummer for five generations driven by a passion in making the finest and what are considered by many, the most comfortable beds in the world.

Hastens beds have been around since 1852 and to this day, handcrafted in Sweden. With over 150 years of tradition and knowledge, Hastens is all about turning that important night's sleep into something other than a sweaty, stressful transport between the bedside lamp and the alarm clock.

"Hastens" means "The Horses" and horsehair is the main component in the beds. Each strand of horsehair functions like a tube that transports oxygen, which helps regulating the temperature around the body and helps evaporate moisture, so one keeps dry while sleeping.

"We're shifting to a 24-hour-a-day, seven-day-a-week society, and as a result we're increasingly not sleeping like we used to," says Dr. Najib T. Ayas of the University of British Columbia. "We're really only now starting to understand how that is affecting our health, and it appears to be significant."

Knowing how important a quality night's sleep is and its impact, it's surprising how little time and money is spent on this important piece of furniture. Most people probably invest more time and research buying a new couch or a TV, than a bed.