$2.5 mn grant for textile, clothing & footwear sector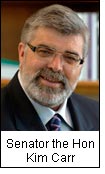 Senator Kim Carr, Minister for Innovation, Industry, Science and Research, announced 71 grant offers totalling $2.5 million for projects in round three of the Australian Government's Textile, Clothing and Footwear (TCF) Small Business Program.

"This program helps TCF small businesses transform their business culture by moving from an inward business focus to becoming enterprising leaders in designing and manufacturing textiles, clothing and footwear," Senator Carr said.

"The quality of the applications demonstrates that small business operators in this vibrant sector clearly see the opportunities for innovation.

"Innovation is critical to not only the prosperity of the TCF industry, but Australia as a whole. It is the key to securing high-wage, high-skilled jobs now and in the future."

Senator Carr said the TCF Small Business Program provides $25 million over 10 years for grants ranging up to $50,000. The grants are used by small designers and manufacturers to improve the flexibility, creativity and the long-term adaptability of their business.

Grant offers for projects focused on business enterprise culture change include:

• Tiffany Treloar, St Kilda (VIC) – $45,323 to develop 'enviro-textiles' and environmentally sustainable business operations.

• Vanguard Clothing, Hendra (QLD) – $20,000 to adopt mentoring in decision making and establish new supply chain partnerships.