Banners at INDEX 08 made from Evolon PVC free non-wovens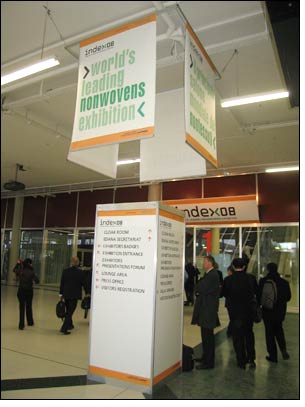 Thanks to the numerous benefits delivered by its feature-rich Evolon printing substrate, performance textile manufacturer Freudenberg Evolon recently supplied the innovative, environmentally friendly media for indoor signage applications at the Geneva Palexpo exhibition centre.

Evolon, which is PVC-free, was used by the Palexpo during EDANA's four-day INDEX 08 exhibition, the world's leading nonwovens event.

Selected in particular for its certified flame-retardant and unique matt look, Evolon, which is lightweight, soft and drapable, was used in an attention-grabbing signage application comprising large, four-sided, 'cubes' measuring up to 130cm x 260cm.

Printed to display important directional information to the show's 520 exhibitors and almost 12,500 visitors, each cube was suspended at a prominent point from the ceiling of the 50,000m² exhibition hall.

The Geneva Palexpo used its internal production capability to print and cut the Evolon material, using a Roland VersaCAMM VP540 digital inkjet printer/cutter, running EcoSol Max inks.

A primary objective was to achieve the finished result of a stunning, visually attractive banner application that also incorporated the vibrant corporate colours and logo of INDEX.

Evolon proved to be perfect for the intended application and very easy to work with from a printing, cutting and colour-matching perspective.

Geneva Palexpo also commissioned a professional stand designer to ensure that the overall visual value of Evolon - namely its sharp pictures and deep colours - was maximised.