Monforts reassurance for Indian yarn spinner Vardhman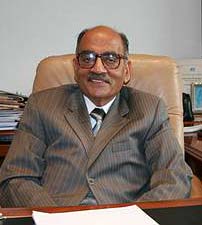 India's Vardhman Group has recently erected a new processing plant at Budhni in Madhya Pradesh, as part of an ambitious expansion plan encompassing every aspect of its textile manufacturing.

By the middle of 2008, this will give the group a spinning capacity of over 800,000 spindles, approaching 900 weaving machines and the ability to dye and finish around 85-90 million metres of fabric annually.

India's largest yarn processor, Vardhman is headquartered in Ludhiana in the north of the country, and has annual sales of over US$500 million.

Its new plant at Budhni is comprehensively equipped with machinery from Germany's Monforts, supplied through local representative ATE and including two Thermex continuous dyeing ranges with Econtrol, two Montex stenters and Monfortex sanforizing units and a MXL moist crosslinking unit, all processing fabrics in 2 m widths.

"Monforts keep on making improvements to their machines, which is what we look for from a supplier," said company chairman Mr SP Oswal. "These allow us to continuously monitor the efficiency of our processing, in order to both improve costs and enhance the quality of our fabrics."

The latest Monforts Thermex continuous dyeing ranges are characterised by outstanding cost-effectiveness when dyeing both long and short batches. And with Econtrol, which is suitable for all indirect heating methods, extremely high process reliability is achieved due to the high reaction bandwidth, while high dyestuff fixing means reduced water consumption for washing out.

The Monforts Montex stenter has established itself as the industry standard for modern mills, and the moist cross linking (MXL) process has been designed for continuous use on a hotflue to ensure reduced processing times. It offers a number of key features including non-iron properties for shirt and bed sheet fabrics.

"You can rely on the quality of Monforts equipment," Mr Oswal added, "but just as importantly, the company has a very positive approach in respect of service."

He added that assistance at the installation and start-up phases of the new plant had come from the very highest level of the Monforts organisation.

"I found this personally very reassuring and a very positive approach to working with the customer," he said, "Today I feel that Monforts has become the leader with its technology in India and will now dominate the market."

Today the Vardhman Group consists of four companies, the largest being Vardhman Textiles, formerly Mahavir Spinning Mills and since 1994 including the original company, Vardhman Spinning and General Mills. Incorporated in 1973, Vardhman Textiles has interests in yarn, fabric, sewing thread and steel.

Vardhman Threads started as a joint venture with Barbour Campbell of Ireland, manufacturing sewing thread, and is now a 100% subsidiary, while VMT Spinning is a 100% EOU (export-oriented unit) for 100% cottonyarn, a 73% subsidiary of Vardhman in collaboration with Japan's Marubeni and Toho Rayon.