Galembo exhibits sensual summer line of priests & priestesses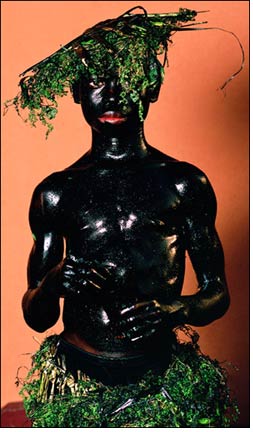 Artist Phyllis Galembo has traveled extensively to photograph visually stunning costumes worn by traditional priests and priestesses, carnival performers, Halloween revelers, and Haitian vodoo practitioners. Her recent photographic portraits of masqueraders from West Africa will be featured in a an exhibition at George Eastman House this summer, titled West African Masquerade: Photographs by Phyllis Galembo, on view this summer June 28 through Sept. 28.

West African Masquerade features 34 large-format color photographs, taken on location between 2004 and 2006 in the West African countries of Nigeria, Burkina Faso, and Benin. Galembo has crossed cultural boundaries and earned national recognition for her work. Art in America has praised her combination of a "careful, almost ethnographic observation with a deep sense of mystical wonder," and the New York Times recognized the "dignity, conviction, and formal power" in her photographs.

Galembo's work has been driven by curiosities and questions such as, "What happens when we put on a mask and inhabit a different persona?" and "How does ritual dress contribute to our connection to spirituality?" Galembo considers herself an artist, not an anthropologist, and her decisions about color, light, and background have more to do with aesthetic desires than ethnographic precision. She is focused on the invention and expressive craft of costume-making and the potential for transformation that wearing such garments allows.

The elaborate costumes featured are often made of inexpensive materials such as raffia, carved wood, coarse fabrics, crocheted yarns, body paint, flowers, grasses, leaves, and sticks. The outfits run a gamut of dramatic designs and shapes, from striped-knit bodysuits to appliquéd fabric costumes as voluminous as pup tents. One head-to-toe costume from Benin sports dozens of long, fluttering strips of spotted and striped fur; another, from Burkina Faso, looks like a walking sunflower, its wearer hidden under a cascade of fresh green leaves. A ghostly white-clad figure from Nigeria is topped with a grimacing painted-wood skull worn like a hat.

Created for festivities and ceremonies such as weddings and burials, initiations, chiefs' coronations, and holidays like Christmas and the New Year, the costumes can be worn to disguise anyone, from a grown man or woman to a child. The subjects range from adults to teenagers, but Galembo does not know the identity of the individual beneath each mask. This mystery lies at the heart of her interest in costuming and masking — acts that allow the wearer to become something else, to change gender, or species, or even into spirits.

"They have intentionally transformed themselves into something exotic, charged, even frightening," said musician/photographer David Byrne, who has exhibited at Eastman House and described Galembo's work on his blog. "There is combined a long deep legacy of dress-up for masquerade, for carnival, for possession by the gods combined with personal creativity and ingenuity. These are not people in their ordinary dress — they are intentionally fantastic, shocking, wild."