Exotic handicrafts to adorn California Gift Show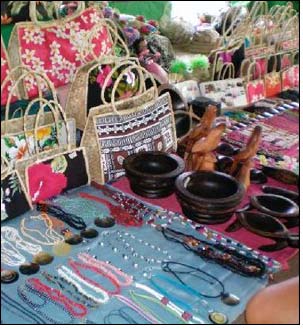 California Gift Show (CGS) will act as the much-need international platform for handicraft industry of Fiji. The event has been scheduled for July 18 to 21 in Los Angeles.

Fiji is renowned for its inspirational and unique handicrafts but this sector is deteriorating rapidly, due to neglect and tough trade conditions.

Recognizing this, the Fiji Trade Commission in Los Angeles collaborated with Fiji Trade and Investment Bureau as well as the Fiji Arts Council and has ensured the Country's participation at CGS.

Experts said that the US is a potential market for Fijian handicrafts, because people, here, are always seeking exclusive, distinctive, striking and one-of-the-kind products.

Authorities said that though these handicrafts qualified for duty free entry into the USA under the Generalized System of Preferences (GSP), exports were not encouraged enough. This event is the first step to change that.

Handicraft manufactures will get massive opportunity to woo the US clients with their talent, by displaying the best of their products that are not only attractive but exude the traditional beauty of the country.