INVISTA starts scholarship project in Sanshui Technical School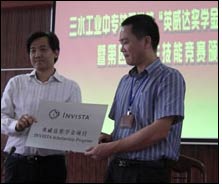 To strengthen the links with local communities and reflect corporate social responsibility, one of the world's largest integrated fibers and polymers company, INVISTA is starting a scholarship project in Sanshui District Technical School.

The company announced the decision to set up a "British Granville Of Scholarships", from which the first batch of 36 students will benefit. This is a first of its kind by INVISTA in China. In the next few years, the scholarship project will be gradually extended to other schools and to other communities.

The company general manager, Wang Jianguo, Sanshui District technicians and school principals jointly launched Invista scholarship project

The two sides held a "Invista scholarship project launching ceremony," in the Sanshui District Technical School. Deputy Secretary for Education Sanshui District, Mr. Xiao Dongwen and all the teachers and students attended the activities."

Mr. Wang Jianguo, general manager of the company said: "In addition to providing outstanding products and services, the company has also a long-term commitment to the communities. Our contribution to education within the community is our unshirkable responsibility.

We hope to strengthen the establishment of the interaction with the community through 'The company scholarships', and further fulfill our commitment to contribute to the community."

"The Invista Scholarship" is open to all first year students. The selection process began in June, on recommendation of teachers on the overall performance at different levels of the students and 36 students are expected to be awarded scholarships in October this year. Education is one of the priorities among the global social welfare activities in INVISTA.

"Sanshui District Technical School principal Yang Guang-Rong said: "We are very pleased to welcome Invista set up scholarships in my school and this is the outcome of a private-public partnership."