Heimtextil strengthens its leading position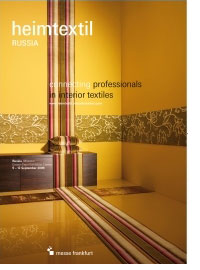 On September 9-12, 2008, Crocus Expo Exhibition Centre, Moscow, will host Heimtextil Russia, an international trade fair for home textiles and fabrics for interior design, for the tenth time.

Traditionally, the Heimtextil Russia brand offers a unique opportunity to strengthen existing business contacts, establish new long-term partnership relations, and gain the fullest insight into the international market for high-quality textiles designed for homes and interiors.

That is why every year Heimtextil Russia attracts top professionals: A.V.emme srl, Billerbeck, Business Optima, Daylight, Polytrade, Decolux, Kariguz, Finlayson, Espocada, Trussardi (Italy), Sleepmaster (Austria), Koutzoululis (Greece), Linder (France), Abby & Habidecor (Portugal), Ballakom (Ukraine), Europatex (USA), to name but a few.

The careful choice of season, the trade fair's fine-tuned concept, the high level of exhibited products, and the extensive business program are the factors contributing to the considerable growth of the trade fair. Heimtextil Russia is growing and strengthening its positions from year to year, which is evidenced by the following figures.

In 2007 the trade fair showed a 40% growth as compared with 2006. In 2008, it will grow by another 25% and occupy two exhibition halls: Hall 11 will present fabrics for interior design and Hall 9 will gather professionals specializing in finished products - bedroom, bathroom, and kitchen textiles.

Heimtextil Russia is the most important event in the home and interior textile industry. New collections will be presented by the manufacturers of the world's leading brands from Germany, Italy, Spain, Australia, France, Switzerland, Austria, Greece, Portugal, Great Britain, Poland, Ukraine, the United States, India, Indonesia, Hong Kong, Taiwan, China, Pakistan, Turkey, Russia, and other countries.

For the first time, the national pavilions of Germany, Italy, Portugal, China, and Pakistan will offer such extensive representation, with at least 20 manufacturers to display their products in each one. This year, Spain will launch its national pavilion especially for Russian consumers.

The trade fair attendees will be pleasantly surprised to see such a diverse and invariably high-quality exposition.

The business program of Heimtextil Russia 2008 will demonstrate ace design achievements. Russian and foreign specialists will share their know-how and tell about their projects. Special emphasis will be placed on the issue of eco-homes and hospitable sphere decoration.

The trend show in Hall 11 will become the center of visual attraction. The textile collages made of materials presented by the trade fair participants display the next season's topical colors, offer opportunities for material combinations, and model residential interiors developed on the basis of specific trends.

Home textile trends are traditionally set by Heimtextil held in January in Frankfurt am Main, Germany, and continue their victorious procession during the entire year in Russia and worldwide.