AWI introduces 'Grand Cru' mercerised wool at Pitti Filati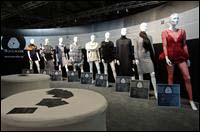 Australian Wool Innovation (AWI) noted positive results from its recent participation in the world's premium yarn trade fair, Pitti Filati held in Florence 2 – 4 July, a pleasing outcome in a shaky economic climate.

AWI's aim at the fair was to address increasing demand for luxury and ecologically friendly fibres. This was achieved by profiling their prestige 'Grande Cru' collection titled fifteen&finer; recently launched mercerised wool; and promotion of Australian Merino wool as a natural, biodegradable and sustainable (NBS) product, ticking all the right boxes in what delegates were looking for at the fair.

"Regardless of the current economic instability clients are still interested in buying quality and they still need to come to Pitti Filati to source prestigious yarns," Jimmy Jackson, Global Product Development Manager, AWI, said.

Fifteen&finer:
At Pitti Filati AWI came together with the following leading Italian spinners and Australian fibre producers to launch and showcase the Prestige Collection 'fifteen&finer.' This rare and noble fibre is the ultimate in luxury Merino yarns, all classified 15 microns and finer. Due to its exclusivity and price point 'fifteen&finer' will only be offered to fashion's elite brands.

Partnering fibre producers & spinners:
• Escorial, fibre supplier, Australia
• Gostwyck, fibre supplier, Australia
• Jemala, fibre supplier, Australia
• Michell, fibre supplier, Australia
• The Merino Company (TMC), fibre supplier, Australia
• Zegna Baruffa, spinner, Italy
• Filatura Botto Poala, spinner, Italy
• Lora Festa, spinner, Italy
• Filatura de Tollegno, spinner, Italy

Mercerised Merino:
Last year AWI partnered with five Italian spinners specialising in Australian Merino wool yarns to establish the mercerised Merino technology and offer these knitted yarns in their collections. These were unveiled at the recent 2008 event, receiving much interest.

Mercerised Merino provides luxurious handle and 'silk like' lustre whilst still offering enhanced fluidity, drape and comfort. It is mostly created for products worn 'next to skin' including: loungewear, underwear and lingerie, men's polo or t-shirts, women's knitwear.

Partnering Spinners:
• Filatura e Tessitura di Tollegno
• Botto Poala
• Lora & Festa
• Olimpias – Galli Filati
• Zegna Baruffa - Lane Borgosesia

Natural, Biodegradable and Sustainable:
With growing concerns for the planet in relation to climate change, consumers are showing a strong preference for natural products.

Brands are answering this call for change and opting for textiles that leave a minimal ecological footprint.
The swing toward eco-friendly products brings opportunities for the global textile industry, and for their part, Australian woolgrowers. Active and informed consumers are now insisting on greater integrity and authenticity in theproducts they buy.