Joanne De Palma ushering in new era in sustainability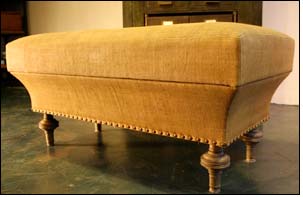 If sustainable design conjures up images of pure practicality without the elements that make it relevant in interiors, think again. A product line by Joanne De Palma brings new meaning to the concept.

Created from a standpoint of social and environmental responsibility, a strict adherence to natural and sustainable materials are principles that are incorporated into all aspects of the line. Yet the work according to Joanne De Palma, doesn't sacrifice function without form.

As a former, traditional, high-end residential and commercial interior designer, Ms. De Palma made a shift into environmental product design after a spiritual walk she took in Spain, and extensive work she did with the American Indians. That combined with changes in the industry that she had noticed served as impetus to realign her business practices, and reconnect to the natural world.

"Given the current conditions we face in the environment, to me the decision was obvious," she says. "The interior design industry is also changing," she adds. "Our clients don't employ large staffs like they used to. They also don't want interiors that require a lot of maintenance, and this is true on both the residential and commercial ends," she affirms. People want the option of buying furniture that is environmentally conscious, yet still conforms to a more classic aesthetic. For this reason, De Palma's work boasts environmentalism within tradition. It is practical yet embracing.

De Palma's Oak, "Etruscan, Nature, and Transition furniture lines, combine high style and sustainable manufacturing from the personal care of a family owned custom shop. All materials for the line, which consist of beds, side, arm, and lounge chairs, night stands and cabinets, with the exception of the designer's own sculptural metal elements that make up the hardware for the pieces, are natural and biodegradable. Through these lines, De Palma hopes to initiate the move into full sustainability in high-end luxury furniture.

Joanne De Palma also lends this thoughtful and aesthetic philosophy of product design to her flooring options. De Palma's carpet line, Mystic Journey manufactured by Bentley Prince Street, a leading manufacturer of stylish floor coverings for nearly three decades, consists of a collection of five carpet patterns. All five styles -- Falling Rain, Vortis, Future Connections, Intuitive Impulse and Journey's Path– are available in broadloom. Falling Rain is also offered in 18" X 18" carpet tile.

According to Ms. De Palma, Mystic Journey was inspired by the 900-kilometer walk she took in Spain through desert terrain, mountains, and modern windmill farms, ending in a small village on the Atlantic Ocean. "Through the journey I developed a profound sense of connection between human beings and nature," she says. "Through the Mystic Journey Collection I created a visual translation of this incredible experience into our carpet designs."

"I chose to work with Bentley Prince Street, because their Mission Zero initiative to eliminate negative impact on the environment is in keeping with my dedication to the health of the planet through considerate use of sustainable materials, responsible manufacturing practices and continuing support of environmental causes," explains Ms. De Palma.