MAYER-MENZEL to drive growth of geogrids, geo-nonwovens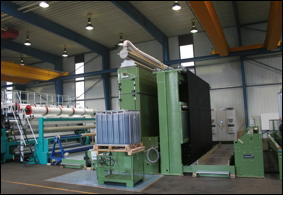 Our world grows together more and more, mobility is increasing, and new ideas are needed. In Russia alone the construction of 12,000 km of superhighways and 90 airports is expected by the year 2010.

The infrastructure will expand considerably, and this is only possible with an efficient building technology, and particularly by using high-tech materials. One of them are the geotextiles.

Geotextiles serve as protection and reinforcement, they control the surface erosion, filter, separate and assume barrier functions.

For the manufacture of these multifunctional articles with their all-round tasks, different kinds of textile technologies are employed, the clear favourites being the production of nonwovens and warp knitting.

Compared to their woven equivalents, warp-knitted geogrids can be coated with less expenditure and higher adhesive power.

Their tensile strength is higher by 20 % in warp and weft directions, they show increased tear resistance, and lower shrinkage values.

Based on these features geotextiles are preferably used in road construction. Placed under the asphalt surface, geotextiles stabilize the total construction, absorbing the forces from the surface layer.

No matter whether employed for marshy or stony grounds, the tensile strength of geogrids lies between 30 and 800 kN, depending on the respective soil condition.

These warp knits with enormous power reserves guarantee a reduction in the construction time by one third, they ensure a saving of 400 truckloads per km2, also increasing the road stability.

The asphalt-warpknit combination even resists Siberia's extreme temperature fluctuations ranging between minus 70° C in winter to 40° C in summer. Such advantages are convincing for the building industry.

If everything goes according to plan, the implementation of the infrastructure projects, for example in Russia, will require about 50 mio. m2 of geogrids this year and even 70 mio. m2 next year.

Moreover, White Russia, the Ukraine and Kazakhstan have also announced their demands in this respect, although at a somewhat lower level.

This is good reason for the textile machi-nery experts KARL MAYER and MENZEL to give the profitable business of geogrids and geo-nonwovens fresh impetus by means of a jointly developed combined solution.

Two companies, one strategy and complementary products. The connecting element between KARL MAYER Textilmaschinenfabrik GmbH and KARL MENZEL Maschinenfabrik GmbH & Co is not only the same first name of their founding fathers.

Both manufacturers have chosen Germany as industrial location, spreading their worldwide activities from here. Besides, both enterprises can look back on a long success story, being able to rely on a combination of established business culture and wealth of experience.

After its setting up in the year 1937, KARL MAYER specialized in the production of warp knitting machines and warp preparation units already at an early stage, whereas MENZEL, since its establishment in 1925, has become one of the leading producers of equipment for the complete range of textile finishing.