Carpet experts gather to find ways of colouring yarn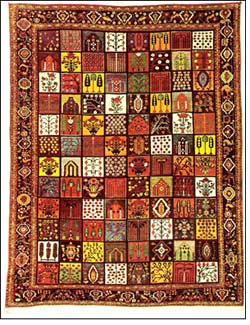 State Museum of Azerbaijani Carpets and Decorative Applied Arts in Baku, which is named after Latif Karimov, recently held a roundtable conference on Ways of Natural Dyeing of Wool Products. Many eminent personalities attended the meeting including famous Iranian carpet weaver Zaminad Bakhshali.

The participants who had gathered here discussed about the Establishment of the laboratory for dying yarns under the State Museum of Azerbaijani Carpets and Decorative Applied Arts.

Known for weaving magic, Zaminad, has been experimenting a lot for quite sometime in order to find out different ways of dyeing the yarn used for making hand woven rugs. The craftsman has been successful in coming across the secret of colouring the yarns that the artists of Safavids dynasty used during Middle Age and is using this technique now.

According to him, dyeing of yarn is of utmost importance as it is only through colours that the patterns come alive on carpet. In Iran the weavers mostly use natural materials for creating different colours of yarn that adds on to the value of the final product.

The fame of Bakhshali can be known from the fact that he has proudly displayed his creations in countries like Great Britain and France and has been appreciated for the wonders that come alive through weaving.