RETECH introduces new ESM motor & LCR roll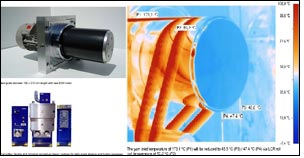 In previous years RETECH has attained a leading position in the market for heated rolls used in spin-draw plants. Besides the initial equipping of new machines and the resulting close cooperation with the leading machinery makers, more and more effort is centred on cooperation with large yarn producers, who develop new polymers and processes, to enable the necessary machines to be developed and built under their own control.

In recent months RETECH came out with diverse product innovations, which appealed to our customers. We would like to use the opportunity and introduce two of them especially.

ESM (Energy – Saving – Motor) motor concept
The ESM motor is a new motor concept as an alternative to the conventional and for many years well known reluctance motor. The well known reluctance motor has "nestled" in the textile industry and has its deserved place, inspite of eclectic disadvantages, mainly because of its price advantage, which cannot be ignored. RETECH also works successfully in certain segments with this motor technology.

The chief disadvantages of the reluctance motor are: low efficiency, high energy consumption, limited torque and a high self generated heat accumulation, due to losses in the rotor.

One impressive alternative is the so-called PSM (Permanent Synchronous Magnet) motor. Can it nevertheless compensate all of the aforementioned disadvantages and thereby stand in first place as the logical 'winner'? If not, it is only due to its not to be underestimated price, which is seen in many applications (e.g. polypropylene compact spinning plants) as too great a handicap. Therefore this advantageous technology must be judged uncompetitive in these areas.

RETECH has now succeeded in combining the advantages of the PSM motor with the price advantage of a reluctance motor, in cooperation with a renowned motor manufacturer.

The new RETECH motor generation, which has been presented at ITMA in Munich under the name of ESM (Energy Saving Motor), consists of a permanent magnet excited synchronous motor with short-circuited cage for asynchronous self starting. It can be connected to the mains supply as a drive with constant revolutions or to an inverter as a variable speed single or group drive.

The ESM motor is currently available in 2 sizes (BG90 + BG112). It has the following impressive key technical data:
- Motor BG90
- 400 V / 4.7 Nm, constant throughout the whole speed range / 6.2 A
- 800 to 8000 revolutions/min., as a standard execution
- Motor BG112
- 400 V / 16.0 Nm, constant throughout the whole speed range / 21.2 A
- 800 to 8000 revolutions/min., as a maximum execution

The BG90 is used for a godet size up to 160 mm (diameter) x 210 mm (length). The BG112 is used for a godet size from 180 mm (diameter) x 270 mm (length) up to 225 x 420 mm and is available in various performance ranges acoording to the process.