Handicraft sector generates high revenue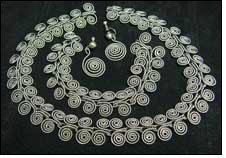 According to Peruvian Export and Tourism Promotion Agency, from January to July 2008, Peru earned almost US $28.30 million through exports of various handicraft items. This showcases a rise of 8.5 percent when compared to same time of last year.

Main nations where the various handicraft items were shipped maximum, include United States where almost 19 percent of manufactured items were exported and New Zealand talking almost 15.6 percent of the total output.

The products made from Alpaca fur witnessed sales worth $5.20 million, experiencing a growth of 93.3 percent, when compared to first seven months of 2007. The main markets for these products were New Zealand that purchased materials worth approximately $4.39 million and the US which ordered items worth nearly $379,510.

The handicraft industry of Peru is of high importance, providing employment to thousands of craftsmen from all the Peruvian regions. This gives opportunity to artisans to display their excellent skills through wide variety of hand made products made from range of raw materials like alpaca fibre, wood and jewellery using various metals.

After looking at the progress that the handicraft industry has made, the Government is planning to further enhance it. As a result, Ministry of Foreign Trade and Tourism will be organizing, the 3rd International Tourism and Handcrafts Conference, which is scheduled from September 24 to 26 at National Museum in Lima.

The three day meet will be attended by Government officials and entrepreneurs from handicraft and the tourism industry from nations like Korea, Thailand, Spain, France and many Latin American countries will also participate.