Balta Rugs adds new collections to B-tron heatset rugs line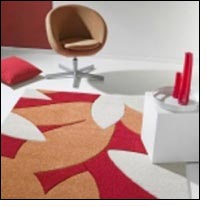 Balta Rugs, the rug division of Balta Group, has presented its new collection for 2009. New collections are being presented in almost every product line.

The company is flaunting several innovations, both technical and in the area of colour and design. Balta Rugs profiles itself as a trendsetter in "carpet land".

The new collection is a clear answer to several trends in the interior market. Consumers are increasingly looking for extremely soft carpets, not only to walk on but also to sit and lie on.

They also prefer maintenance-free and wear-resistant rugs that also have antistatic properties. Finally, consumers are clearly sensitive to striking visual characteristics such as a handmade relief (hand carving) or innovative colour combinations.

Marc Dessein, Business Unit Manager at Balta Rugs: "The interior market evolves extremely fast. That's why we keep a close eye on the entire interior market.

Product development and design are essential for us: every rug must look attractive and at the same time have the right quality and technical properties.

To realise this we invest a lot in product development and technological innovations that can offer final customers added value. Our new collection is a clear result of this."

Ultimate Shaggy: ultimate softness and sense of security
Balta Rugs is adding a few important new collections to its B-tron product line of heatset rugs. The most striking newcomer in the collection is "Ultimate Shaggy".

This is a deep-pile carpet with extra long pile (7 cm) and very soft yarn. Ultimate Shaggy is available in nine colours, including the most popular tints: cream, beige, brown, grey, black and red.

Ultimate Shaggy is a continuation of Balta Rugs' very popular Shaggy, Super Shaggy, Expo Shaggy and Luxury Shaggy collections.

Extra colours have been added to the Luxury Shaggy, Super Shaggy and Expo Shaggy collections. They include copper, platinum, golden brown, different types of beige, black and gold.

Joël Pirotte, Product Development & Marketing Manager at Balta Rugs: "The Shaggy range is an answer to the growing need for extremely soft rugs with gentle and warm colours. Final customers want such rugs to sit on, lie on or play with the whole family."

Picasso: fresh newcomer in frisé quality
With Picasso, Balta Rugs introduces a newcomer in polypropylene frisé quality. A lively and soft carpet surface is created thanks to a strong, typical and voluminous pile quality.

The strong structure ensures that hardly any footprints are left behind and it prevents dark and light areas from forming in the carpet. Thanks to a specific production technique these rugs receive a lively pile that almost feels like real wool.

The new Picasso collection is a clear, shiny and soft frisé carpet complete with hand carved relief patterns. That accentuates the patterns, provides extra vitality and gives the rugs an authentic flair.