Craft institute tries to revive traditional pua kumbu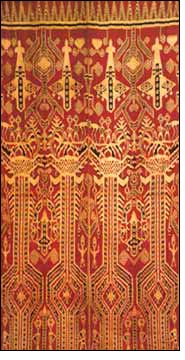 Pua kumbu is a hand-woven textile art that has been mainly practiced by the women of Ibans society for generations. The age old craft has become synonymous with this tribe of Malaysia, which is famous far and wide for weaving magic through threads for making mesmerizing fabric that can be used for various purposes.

The weaving patterns effortlessly make the fact clear that Ibans have till date strongly held their vibrant cultural and traditional intact. Mostly plants, animals like crocodile, chameleon and tigers and humans are weaved as motifs by the artisans using ikat technique.

Cotton threads are used in pua weaving and are coloured with natural dyes that the craftsmen source from mengkudu roots, tarum and tumeric leaves, which are readily available in the region.

The interesting piece of cloth is mainly worn by the Ibans during various ceremonies like marriages and religious festivals. It is also used as wall hangings for beautifying houses.

However, with the changing times the skilled artisans have started experimenting with patterns, colours and fabrics in order to keep the demand of traditional craft alive. A wide range of home décor items are now also been created for keeping pace with fast moving world.

In order to make this art form all the more popular among countrymen, the National Craft Institute (IKN), which comes under Kraftangan Malaysia (Malaysian Handicraft Development Corporation), conducts handicraft training courses round the year.

The sole purpose for holding these programmes is to pass on the amazing art among all the people who have an inclination towards learning traditional art form and wish to make a career out of it.