Fasnap Grommet Machine is portable & pneumatic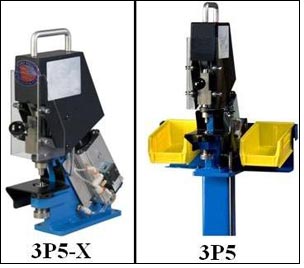 Fasnap's portable pneumatic press (model no.3P5) is capable of punching holes in in a variety of industrial fabrics, and setting plain or rolled rim grommets up to size no.4 in one troke.

The press is either portable or can be bench mounted, and has several configurations for operator comfort. It is also available in a heavy-duty model (no.3P5-X) for oversized grommets.

FASNAP CORP., an ISO 9001:2000 registered company, is a premier supplier to the industrial textile industry. Fasnap has become a leader in the industry by offering high quality, innovative fasteners and expert fastening solutions. Fasnap was founded in 1981 in Elkhart, Indiana, and opened an Orlando, Florida location in 2003.

FASNAP CORP.