COMPERJ to benefit from the reduction in naphtha imports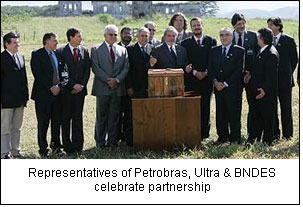 Rio de Janeiro's Petrochemical Complex (COMPERJ) will be the largest industrial undertaking in the history of Petrobras and Brazil, and one of the largest in the world in terms of investments, which will total US$ 8.5 billion.

Due to come on stream in 2012 and to be completed in 2013, COMPERJ will mark Petrobras' return to the petrochemical sector in grand style.

After almost two decades of reduced participation in first generation industries, in line with decisions of former governments seeking to boost the private sector, the company, through COMPERJ, intends to increase Brazil's heavy oil refining capacity, to reduce import requirements of by-products such as naphtha and petrochemical products, to produce second-generation products for the internal and external markets, and to revolutionize the socio-economic profile of the complex's entire sphere of influence.

This will enable Brazil to achieve annual savings of over two billion dollars in foreign exchange and 200 million dollars in taxes.

"It must be kept in mind that petrochemical plants use raw materials such as petrochemical naphtha, of which there is a worldwide shortage and which in Brazil doesn't exist with the degree of paraffin content required by these plants".

"Natural gas, also used, has not yet reached levels to meet the demands of thermoelectric plants, industries in general, vehicles, private homes, and businesses in Brazil."

"Therefore, the use of heavy oil as a raw material in such plants by COMPERJ will represent a major advantage, as it will be possible to process this oil, of which there are abundant supplies in Brazil, to produce propylene and ethylene directly."

"These are raw materials that will be converted into petrochemical products, which will then be transformed into consumer goods by industries attracted to the region surrounding the Itaboraí-based plant in the state of Rio de Janeiro".

"It will give added value to the Brazilian heavy oil produced in the Campos Basin, which, if exported, would be sold at lower prices abroad than in Brazil, as it is light oil that is worth more on the international market."

In addition, it will reduce our imports of naphtha, used in the petrochemical complexes of Capuava, Camaçari, and Copesul, for example," explains Petrobras' director of Supply, Paulo Roberto Costa.

The result of a joint operation involving Petrobras, Grupo Ultra, BNDES, and possibly some minority shareholders, COMPERJ will have the processing capacity for 150,000 bpd of Brazilian heavy oil.

In a single industrial complex, it will bring together a First-Generation Refining Unit, or Basic Petrochemical Unit, for the production of basic petrochemical products including ethylene, propylene, benzene, and paraxylene; a series of second-generation units, which will transform the basic products into petrochemical products such as styrene, ethylene glycol, polyethylene, polypropylene, and PTA, destined for the internal market (70%) and the external market (30%); and a Utilities Plant, responsible for supplying water, vapor, and electrical energy for the whole complex.