Devan Chemicals acquires Micropolis S.A.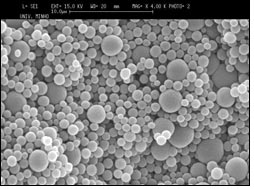 The Devan Chemicals Group has acquired the Portuguese company Micropolis S.A. Micropolis, based in Porto, is a spin-off of the Minho University and is specialised in micro-encapsulation and hydrogel technology. Micropolis, with the support INOVCAPITAL, a Venture Capital company that focuses its investments in High-Tech start up companies, has worked for more than 5 years in the development of reactive microcapsules.

Micropolis employs 5 qualified engineers working closely with several Portuguese universities such as Minho and Guimarães Universities in order to expand the fundamental research on the use of these technologies in textiles and other applications.

With 29 employees in Belgium and 11 employees around the world, Devan Chemicals (www.devan.net) is a fast growing company developing chemical technology for the textile industry.

The driving force of the Devan group has been always the R&D activity. The R&D department is the core of the company. Innovative solutions for textiles have been its success and the main reason for fast growth during the last 15 years (in 1991 8 employees with a turnover of €2millions, today 40 employees with a turnover of €14 millions). More than 50% of its human resources are high level engineers or masters in science including 4 PhD's and three microbiologists.

The development of intelligent textiles is the best defence for the European textile industry against cheap textile imports from the Far East. Devan's activities are focused on niche markets with high added value. Innovation is a permanent endeavour of the Company. The main topics covered are antimicrobials, flame retardants, special functional polymers, micro-encapsulation and polymer additives with final goal "Protecting Textiles".

The quest for new technologies which are more environmental friendly is also a permanent goal for Devan; technologies such as halogen-free flame retardants, non-migrating antimicrobials, and insect repellent products based on micro-encapsulated essential oils,

The patented technology of Micropolis allows the fixation of microcapsules on any type of textile (cellulosic, synthetic, wool) without the use of binder. This unique technology imparts wash durability with still a very soft hand of the textile. The major application is phase change material (PCM).

Phase Change Materials (PCM) possesses the ability to change their physical state (solid-liquid) within a certain temperature range, in response to ambient temperature oscillations.

These materials absorb heat when the temperature goes up, storing this energy temporarily inside the µ-capsule, and release the energy as heat when the temperature cools down. The PCM are normally microencapsulated and applied to fibres in textile articles known as "smart materials" to impart thermal insulation and thermal comfort, through the thermo-regulating effect of the PCM.

The new technology involves the application of PCM microcapsules with functional reactive groups which can be applied by any conventional textile process such as padding, exhaustion or spraying processes. The chemical bond of the microcapsules with the fibres confers a very high resistance to washing during the life time of the article.