Visitors at Interstoff endorse specialised event for eco-textiles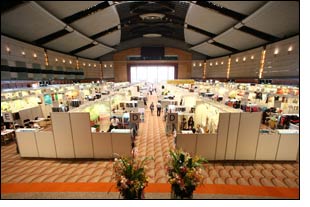 Interstoff Asia Essential Autumn, which ran 8 – 10 October, proved to be one of the premium sourcing destinations for eco-textiles, functional and fashionable fabrics in Asia.

More than 6,200 garment manufacturers, top brands and retailers representatives and designers from 45 countries and regions visited the fair, looking for high-quality fabrics and the latest market information of eco-textile.

A total of 205 exhibitors participated at the fair, showing wide ranges of fashion and speciality fabrics, accessories and garments. Suppliers praised the quality of visitors.

"The result is beyond our expectation. We received many enquiries and sample orders for high quality wools from buyers including famous designer labels in Hong Kong and Mainland China," said Mr Takao Hayami with Chikuma & Co., Ltd., agent of JB (Joint Bishu) Brand.

"Visitors here are expected to buy medium-to-high-range products. We are happy to see customers and local buying offices, which represent European brands," said Mr Eddy Bauder, Project Manager for Union Knopf (HK) Ltd, a high-end buttons producer from Germany.

Buyers attending the show include: Abercrombie & Fitch, Addidas, Ann Taylor, BCBG Maxaria Group, Benetton, Burberry, Camieu, Christian Dior, Crocs, Diesel, DMK Asia, Esprit, Evisu, Gap, Hanes, Hugo Boss, JC Penny, Laura Ashley, Levi Strauss, Liz Claiborne, Loewe, Macy, Marks & Spencer, New Balance, Nike, Philips-Van Heusen, Polo Ralph Lauren, Quicksilver, Reiss, Shanghai Tang, Tesco, Victoria's Secret, Wacoal, Wal-mart, Warnaco, and more.

"The textiles are good and the qualities of the exhibitors are high," said Ms Morgan Markes, a proprietor of Morgan Markes Clothing who visit each year to this fair from Australia.

Both exhibitors and visitors were delighted with the fair's continued focus on environmental sustainability. "We only attend one trade fair in Asia per year and we chose Interstoff Asia Essential because it has a clear focus on eco-textiles that matches with our product profile," said Mr Albert Pu with Taiwan textile manufacturer Handseltex.

"This fair is a good source for trends for organic cotton, recycled products, yarns and fibres," said Mr David Miller with CloverTex, a member of the delegation organised by Cotton Council International.

To provide participants with the latest information of eco-certifications, the first 'eco-textile labelling guide' booklet was published at this Autumn fair. "The new eco-labelling guide is a good step forward to clear-up confusion in the textile and garment industry," said Mr Hong Lee, Manager for Control Union Certifications, Hong Kong. "Interstoff Asia Essential is still the only platform in Asia to promote eco-textiles," he added.

In addition to a huge product range on offer, the special display area and a series of seminars relevant to eco-textiles were also important sources of new market information for buyers.