Heimtextil - perfect platform to expand textile trade by 2010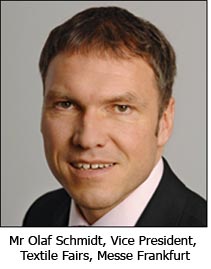 Observing the supply and demand structure of the global textile industry, market analysts opine that by 2010, world consumption will exceed 127 billion tons.

This indicates that the consumer's preference for home textiles will also surge. Thus, buyers for hotels and commercial projects, creative designers, interior decorators and architects can take the advantage at the Heimtextil an international trade fair, scheduled to be held from January 14 to 17, 2009, in Frankfurt, Germany.

According to Mr Olaf Schmidt, Vice President, Textile Fairs Messe Frankfurt, demand for home textiles is influenced by a number of demographic factors such as growth in disposable income, consumer confidence levels and other general economic variables and Asia-Pacific represents the largest textile market with China and India the clear leaders in textile exports followed by Korea and Taiwan.

Speaking exclusively to Fibre2fashion, on current economic downturn and sharing the rationale behind his forecast of such high growth in world market of textiles by 2010, Mr Schmidt told, "We do rely on long term developments in the production and consumption of textiles including home, contract, technical and apparel. This is what gives the industry and major organiser of textile fairs worldwide like us, the basis of our forecasts. We watch the market, but, as no one can at this early stage, we also cannot foresee to what extent the current worldwide crisis will affect our markets".

Current economic milieu is likely to affect the enthusiasm of participators. Talking on this line, Mr Schmidt avers, "Yes, the current scenario may slightly mar the fervor of the participants at the Heimtextil to be held from January 14 to 27, 2009, in Frankfurt. But as I have said before, there is no possibility to quantify this. We anticipate that some companies on the exhibitor as well as on the visitor side might be forced to be present in reduced manner."

"However, the response of visitors to our exhibitions is evaluated by standardized surveys led during the exhibitions which allow Messe Frankfurt to analyze their reactions in terms of quality and quantity", quantifies Vice President, Textile Fairs Messe Frankfurt.

The number of registrations for exhibition space received by the end of the third quarter of this year indicates that exhibitor participation in 2009 will be just as high as at Heimtextil 2008. At the moment, however, "we are aware of a high degree of uncertainty in the market, caused by the worldwide financial crisis and the economic downturn, which is also noticeable in the exhibitor registration and to be expected at this time", stressed Mr Schmidt.

This up coming fair is going to promote eco friendly products line. "Further to the 2008 Heimtextil, we have seen a lot of new product developments with exhibitors and with companies new to Heimtextil", Mr Schmidt informed .

For 2009 exhibition, Heimtextil has clustered these novelties in three major topics that include Sustainability, Heimtextil Trend and Contract Creations.