Nagano strives to bring sheen to silk sector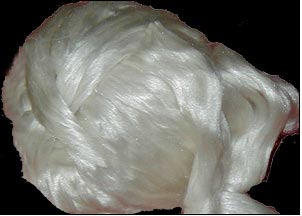 Silk industry of Nagano Prefecture in Japan, considered to be one of the major foreign exchange earners at one point of time, is now aiming to gain its lost glory.

According to available statistics, the annual production of raw silk, which once touched over 40,000 tons, has today come down to nearly 100 tons. Such a fall can be attributed to prowl of low price Chinese silk in the market.

Today, a mere count of two companies in the region, are engaged in the process of harvesting silk from the cocoons of silkworms. People working in this sector are making efforts to revive the fabric business. They make products like neckties and table mats and export them to the EU countries.

Observing the demand for silk curtains and sheets in the European market, the Nagano Chamber of Commerce and Industry and Shinshu University are trying to develop a new technique for 'washable silk'.

In the month of February, the government assigned a supplementary budget of around Yen3.5 billion, to speed up a policy of cooperation among silkworm-raising, silk-making and textile industries.