AWI & Stoll join hands to create technical knitwear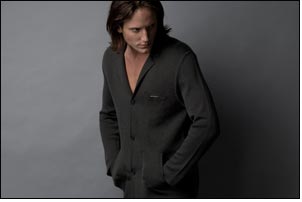 Merino wool is regarded by many as the finest, softest, versatile and most technically dynamic fibre in the world – the natural fibre of choice.

STOLL has worked with Australian Wool Innovation (AWI) to create a unique technically advanced range of knitwear designs suitable for form and function.

Technical Knitwear which is part of Stoll's modern nomad range of knitwear designs consists of highly technical patterns – including a Merino wool facing on one-side and PrimaLoft yarn on the other in areas required by the body to keep warm, whilst at the same time the same garment has lightweight high air-permeability in areas required by the body to keep cool.

The garments are unique to the apparel market and utilises the full capabilities of STOLL premium knitwear machinery computer programming. AWI's in-depth understanding of the Merino fibre combined with STOLL's technical knowledge and understanding of their machine capabilities are able to combine and create pattern's that show the luxurious and technically dynamic qualities of Merino yarn – the two teams are able to provide designers, retailers, brands and manufacturers globally with the knowledge and ability to create truly functional, dynamic, and high quality product.

Merino wool adds to the garments functional attributes, innate benefits the fibre offers to the wearer include excellent wicking capabilities, durability, and a luxurious next to skin softness. AWI is pleased to have worked with STOLL and look forward to building innovation in the area of technical knitwear.

STOLL provides the experience and expertise to make you feel almost anything is possible to create in knitwear, and to create beautifully. Merino is a fibre that offers a host of innate benefits along with being natural, biodegradable and sustainable which is so important in current times; looking to the future is working with Merino; looking to the future is working with STOLL.

The modern nomad collection is fashionable, technical, easy to care for, machine washable, lightweight, and provides cross-function attributes to serve every customers different needs.

AWI and STOLL worked together to develop the modern nomad collection; and this was only possible through thinking about knitwear as a manufacturing technique specifically suited for sportswear; and being committed to the design principle of form and function. Today, with the creation of specialized yarns with unique properties from fibres such as Merino including moisture release, heat retention, odour control and water resistance, we have the ability to create "comfort panels" in garments.

Working with the body in mind, each zone requires a special need, such as heat retention in the chest or back, and wicking under the arms; all of which can be serviced in a garment. The challenge that has been overcome with the modern nomad collection of designs in how and where to service these zones for maximum effectiveness without sacrificing great design.