TIFE, a step ahead towards green textile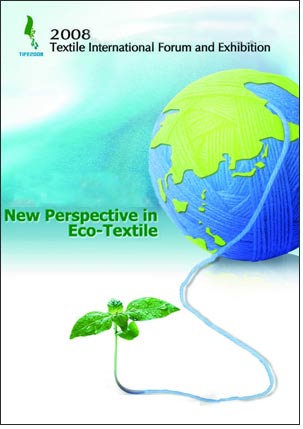 In order to analyze a new perspective in eco-textiles, a three day event, Textile International Forum and Exhibition (TIFE 2008) opened at NTUH International Convention Center in ZhongZheng district, Taipei City on November 25. The fair is organized by Taiwan Textile Research Institute (TTRI).

Ministry of Economic Affairs is sponsoring TIFE, which is a platform for innovation and development in the textile industry in Taiwan.

According to TTRI Chairman, the textile industry has emerged as one of the key foreign exchange earners of Taiwan and through innovation and proper management in this sector, the country can remain competitive in the international market despite global financial crisis.

On the first day, after the opening ceremony, Professor Stanislaw Slomkowski, Director and Head of the Department Center of Molecular and Macromolecular Studies at the Polish Academy of Sciences, gave a keynote address, titled 'The Development and Application of Advanced Textile Materials'.

Mr Detlef Fischer, Vice President of Bluesign technologies, Switzerland, gave a presentation on 'The Certification and International Labels of Eco-Textiles'.

On the second day, Dr John Easton Manager, Textile Services-Ecology, Solutions, DyStar UK Ltd, presented papers on 'The Derivative Textile Technologies and Market Trends from EURO REACH'.

Mr Alojzy Urbanowski, Proxy International Cooperation, Poland, Institute of Biopolymers and Chemical Fibers, shared his views on 'The Development and Applications of Bio-Fibers'.

Today, Mr Kenichi Ishihara, Manager, Raw Materials Technology, Development Section, Teijin Fibers Limited read papers on 'The Development and Strategies of Teijin's Eco-Fibers'.

Dr Hiroshi Toyoda, Chief Engineer, The Technical Research Center of Taiyo Kogyo Corporation shared his insight about Introduction of Green Textile for Architectural Structures.

At TIFE 2008, a series of seminars held where a total of 18 experts from Taiwan, Japan, Switzerland, the United States, Germany and the UK exchanged their opinions on the commercial development of eco-textiles and their technical specifications.