Country meets export target of $125 bn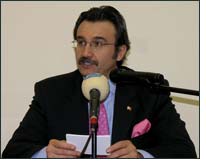 The export target of $125 billion for the current year has been achieved on December 22. This was announced by Mr Kürsad Tüzmen, Foreign Trade Minister Turkey at a New Year's gathering of the Economy Journalists Association (EGD) on December 25.

The Minister appreciated that despite global financial meltdown, the country was able to meet its export target.

Available statistics show that the textile industry, fetched $15.4 billion, stood at the third position in the list of top foreign exchange earners. Exports grew by 21.4 percent in the period from January 1 to December 25 of this year compared to last year.

Mr Tüzmen showed his concern by saying that, achieving target would definitely be a tough task if the ongoing global financial crisis continues. However, the Government has already taken steps to prevent the predicament.

"The contraction in global markets is not only a problem for us but for every country. As a matter of fact, the exports of almost every country decreased in the last months of 2008, similar to what happened in Turkey. In 2009, exports are expected to fall by 2.1 percent on a global scale, and this is a harbinger of toughening competition among exporters in all sectors," Mr Tüzmen stated.

Emphasizing the fact that because of competitive prices, quality products and timely delivery of orders, exporters could stand tall at this point of crisis. Now the country should focus on other export markets other than its traditional ones.