Key findings on textiles & garment consumer consumption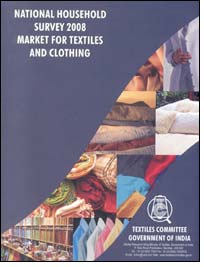 The Office of the Textile Committee, India has recently released a detailed report containing the consumption levels of textiles and garments in the domestic markets. The report is based on data of purchases for 2007 and the sampling data consisted of 13,950 households from 116 metros/semi-urban areas and 261 rural areas of India.

The report outlines size of the Indian textiles and clothing market in the household sector in the country; estimates of the product wise market sizes of important varieties; preference pattern of Indian consumers with respect to fibre, sector of manufacture, prices and correlation between preference pattern of consumers and consumer profile such as rural-urban, income slabs, age, sex etc.

Amongst the key findings, the per capita consumption of textiles fell to a marginal 22.41 meters in 2007 as against 21.49 meters in 2006, but again on the other hand a consumer purchased and used 0.92 meters, more of textiles and clothing in 2007 than the previous year. On an average, an Indian spent an extra Rs 97.30 or 6.99 percent more on the purchase of textiles & clothing worth Rs 1,488.39 in 2007.

The market size of textiles in 2007 stood at 25,493 million meters vis-à-vis 24,030 in 2006 to garner a growth of 6.09 percent. In value terms the market size, ascended from Rs 1,555.83 billion to Rs 1,692.95 billion to seize a growth rate of 8.81 percent. Of the sample size, 3.22 percent did not purchase any textile items in 2007, while 14.64 percent purchased products worth up to Rs 1,000.

It is estimated that 17.55 percent of the households incurred an expenditure in the range of Rs 1001 – Rs 2000, 14.46 percent spent between Rs 2001- Rs 3000, 19.85 percent between Rs 3001- Rs.5000, 19.84 percent spent in the range of Rs Rs.5001 – Rs 10000, 7.94 percent spent in the range of Rs 10001 – Rs 20000. Households incurring an expenditure of Rs 20001 and more are about 2.5 percent.

Among the key findings are also the changing preferences of consumers towards different fibres. According to the report, man-made and blended textiles and garments recorded a share of 60.08 percent of all textiles, while cotton textiles and clothing registered 38.95 percent. Silk and wool related textiles clothing could manage marginal shares of 0.62 and 0.35 percent respectively.

From amid the different textiles and garment categories, market size of shirts grew to 419 million pieces in 2007 from 399 million pieces in 2006, a growth of 5.01 percent, out of which man-made and blended fibre shirts make up for 298 million pieces or 71.12 percent and cotton shirts 121 million pieces or 28.88 percent of the overall readymade shirt market size in 2007.

The total market size of shirting in 2007 stood at 1,817 million meters versus 1,648 million meters in 2006, thus pushing up the aggregate demand by 10.25 percent. Of this, urban areas have a share of 26.53 percent and rural areas a share of 73.47 percent while man-made and blended/mixed shirting commanded a share of 90.75 percent, or 1649 million as against 9.25 percent of pure cotton shirting, or 168 million meters.