Can universities influence interiors trends?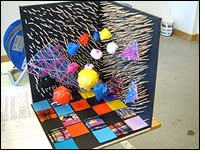 Birmingham City University will unveil four trend pavilions, presenting the latest trends forecasted for 2010, produced by their MA and BA students from interior, textile and product design at the Interiors Birmingham Show taking place at the NEC in January 2009.

Involving 100 (Hons) Textiles, Product Design and Interiors degree students and 20 Interior Design Masters students over a six month period, the University interrogated the internationally respected Global Color Mix publication to predict a dramatic interpretation of textiles, textures, lighting and surface finishes for the coming season. The four trend pavilions are:

Contour : combines surface detail and luxury finishes, taking rich neutrals into a virtual landscape where organic textures come complete with a techno polish. Handcrafted elements offer tactile solutions to wall coverings and home furnishings, their complex structures offering a wide variety of finish, complementing an almost monochromatic palette. Pattern is chaotic from random scribbles to the undulating linear quality of contour lines.

Punch: is rich and full of impact, it is more than simply an exercise in colour blocking, but a reappraisal of how tonal shades of one colour can create an environment that is both sumptuous while simultaneously multidimensional. Polish is key; flat surfaces and a lack of ornamentation create a sleek hyper-reality. Colour icons are immediately recognisable to everyone: vermillion lips, scarlet sports cars and glossy maraschino cherries.

Roma: from archetypal painted caravans, to urban squats, the romantic life of the gypsy is given a shot of adrenaline in this gritty, yet pretty, take on traveller style. Taking inspiration from Eastern Europe and beyond, cheery colours contrast with darker folkloric motifs but with a resolutely modern attitude that is as much about urban living as camping by an open fire.

Opal: mystical modernity with a sci-fi twist, lends a sinister surrealism to this opulent trend. Nostalgic visions of the future, from Fritz Lang's 1927 masterpiece Metropolis to Manhattan 's Art Deco skyline, create geometric forms suffused with a Thirties colour palette. Imagery is sombre yet sensual. Ombré effects create artificial shadows, while iridescent metallic finishes take inspiration from exotic beetles.

The pavilions are aimed to engage and inspire the imagination. This highly visual display seeks to stretch and engage individuals who want to appreciate the future trends for design.

The project is led by Designer and Curator, Simon Andrews, with the support of exhibitions expert John Hall and has teased a new generation of design experts into interpreting, evaluating and interrogating concepts, designs and materials to establish how to push boundaries and provoke discussion in order to come up with finishes, products and solutions that best reflect the themes provided by Global Color Mix.

An awareness and understanding of the process and role of trend forecasting is an important element in the Textile Design degree at Birmingham City University. This is progressively built into all levels of the course. An overview of the cyclical nature of trends is established – colour and yarn to fashion fabric, interior fabrics and surface finishes - the specialist companies who work in the trend industry and the nature of their products. The importance of zeitgeist, the need to be alert to influences within a wide contemporary cultural context, leads to students developing their own responses and suggestions for forward thinking.