Handbook on strengthening value chain in textile clusters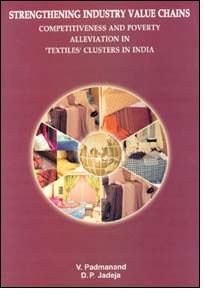 A handbook on "Strengthening Industry Value Chains, Competitiveness and Poverty Alleviation in Textile Clusters in India" jointly written by Mr V Padmanand and Mr DP Jadeja, delves in depth on each and every aspect of textile clusters in India. Mr Padmanand provides technical advice to Textile Committee interventions in Indian Clusters and has trained its Cluster Development Agents (CDAs), while Mr Jadeja leads the Textiles Committee's Cluster Development Programme (CDP). With more than 34 years of experience in serving the textile industry, along with a large number of offices and a large pool of trained resources and personnel at its disposal, the Textile Committee is one of the forerunner organizations in the CDP space.

Drawing from the experiences of Textiles Committee and other development organizations, the book provides adequate frames of reference and a checklist of appropriate diagnostic tools and interventions. The authors have carefully crafted a strategy framework that rises above product specifics, so that a versatile instrument of analysis is made available for the use of cluster development functionaries and policy makers. The treatment of 'value chain' approach to evaluate the dynamics of an industrial sector as demonstrated here for the textiles sector is commendable. Integrating value chain across cluster, national and global levels is a pioneering effort. The arguments advanced clearly reflect the expected synergic efforts of a team represented by a management scholar and an engineering professional.

The manual begins with a theoretical exposure to establish that the textiles industry is critically important for the economic growth of the country in terms of its share in the overall industrial production and export earnings and that India enjoys comparative advantage in the basic raw material cotton, yarn spinning and product categories such as ladies wear and knitted undergarments. It has been heartening to note from the vivid documentation the contributions of the Textiles Committee and authors in offsetting the distortions created by certain government policies and helping realize the comparative and competitive advantages inherent in the Indian handloom, powerloom and other textiles clusters.

The book also touches upon the 'basics' of clusters including the authentic definitions, typologies, agglomeration economies, cluster governance, generation of social capital and the value chains. The detailed cross-cultural survey done to depict the prevalence of integrated value chain is particularly laudable for its potential to enhance the cluster vision of the user. The authors have developed a thorough strategy framework to identify the value chains and related clusters; conducting an environmental study of the selected value chains to capture dimensions such as policy, factor conditions, stakeholders and firms' internal health; evolving and validating a vision and preparing an action plan to bridge the perceived gaps; spelling out the implementation and its phasing and; monitoring and evaluating the performance.