Pasarela Fimi fashion fair from January 16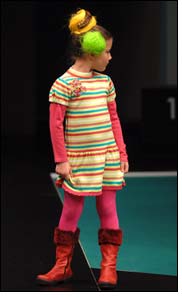 Over 200 Spanish and international exhibitor are already confirmed for the 68th 68 FIMI (International Children's and Young People's Fashion Fair) to be held at Feria Valencia from January 16th to 18th 2009, coinciding with CERO A CUATRO (International Baby & Child Care Show).

The offer available at FIMI consists mainly of children's fashion and accessories, as well as collections for expecting mothers, layettes, gifts for babies, and equipment, decoration and children's furniture, and increases by the day. Footwear is the most noteworthy new introduction among accessories, with the participation of shoe brands growing by a staggering 50%.

Noteworthy for January 2009 is the presentation of a new sector with children's books and the heightening of the profile of the toys for babies and toddlers in response to existing demand. This is further proof of the fairs evolution as it responds to the demands of the different industry sectors. In fact, it is currently designing a plan of actions to strengthen both offer and demand.

A fair with huge potential for participation, information and formation, FIMI is a fully consolidated platform from children's fashion with an enviable business turnover, featuring brands from Brazil, Denmark, Italy and Holland who have chosen FIMI as a commercial springboard.

THE LATEST TRENDS AT PASARELA FIMI FASHION SHOW:
The collections on show at this FIMI are: AKR Kids, Barcarola, DDP, Elisa Menuts, Giesswein, Girandola, Gorila, Me Too, Mim-Pi and Tuc Tuc.

FIMI will be showcasing the latest collections for the Autumn Winter season, which are given a spotlight at Pasarela FIMI Fashion Show which is now paying tribute to baroque palaces. This will be a winter of majestic inspiration, a source of new ideas, a space for free expression, a world of fascination, an adventure of going one step further. And that is why the trends have been called Rock in Palace, a combination of past, present and future.

Rock and Baroque share time and space, and a common essence: the harmonic dimension invites us to fly freely, in pursuit of surprise, in a refined and mysterious world dreamt by children that leaves us speechless with excitement.

Three trends serve as inspiration for its melodies: WINTER WARMTH, CHIAROSCURO, and COUNTERPOINT.

WINTER WARMTH in our city embraces a cosmopolitan and urban fashion. Rock and Baroque as a source of new images in a seamless integration with current aesthetics. Peaceful atmosphere full of history; real everyday life; the pursuit of peace and beauty. Comfortable silhouette. Rounded forms. Smooth natural fabrics. Wools inspired by British tailoring: tartans. Polished urban style.

Wintery clothes in new fabrics introducing a sea change in the colours of the collection, eschewing pastel tones. Simple dresses, blouses and full skirts, ankle trousers. Romantic touches. Display of styles and forms. Intense colours for grey days in the city. Velveteens, corduroy and flannels.