Textile companies to showcase high quality materials at Heimtextil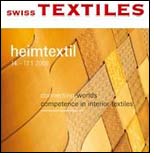 To mark the start of the New Year, Heimtextil in Frankfurt will focus on 'sustainability'. From 14 to 17 January 2009, the biggest international trade fair for home and contract textiles will be displaying new products featuring 'Eco Luxury', 'Green Business' and 'Innovation'. Swiss textile companies will also be presenting top quality and sophisticated home textiles for the bathroom and bedroom.

For four days, Heimtextil exhibitors will be attracting visitors to the City on the River Main with their innovations for the coming season. Once again, the members of the Swiss Textile Federation are showing high quality materials and luxurious bed linen and terry towelling articles.

Fascinating patterns and extravagant colours are an invitation to visitors to acquire new linen items for the bedroom and bathroom. Satin, cotton, linen or terry towelling in combination with embroidery or applications – every wish can be satisfied.

The following members of the Swiss Textile Federation will be exhibiting at Heimtextil:

Bonjour Switzerland and Schlossberg Textil AG
This year the Turbenthal-based company with its rich tradition attracts visitors to view its 2009 spring collection in the SECRET GARDEN. A fairy tale garden abounding with fragrant blossoms where elves and fairies play with butterflies and dragonflies. The stream splashes and water lilies embellish the pool with their luxuriant beauty. The meadows are densely carpeted with bright little flowers contrasting with the dark green grass. Quality is superb, the print technique ambitious and finely suited to every pattern. The rich selection of jersey linen and patterns enables the radiance of a room to be seen in many different variants. The spring collection is further enriched with the new terry towelling line by Schlossberg Switzerland – SPA COSHMERE.

This dreamily soft Coshmere, made only from the very finest cotton shares the same sensuous feel with real cashmere. Thanks to its high absorbency, coshmere dries perfectly. The spa line also includes the classical wafflepatterned dressing gown with a terry towel lining.

Christian Fischbacher Co. AG
The January 2009 bed linen collection from Christian Fischbacher Co. AG is presented in first class materials such as cotton, satin and high grade linen. Creative patterns and colours ranging from pearl white, through vanilla, light blue, mauve and coral red to yellow olive make the pleasure of a deep sleep a truly exceptional experience. The BOUQUET line is richly decorated with luxuriant peonies, dahlias, tulips and hortensias – in bright summer colours against tender fine satin. The masterpiece of this collection, GLORY, provides a marvellous combination of delicate embroidery with applications on white satin.

Mira-X Stoffe AG
The company based in Appenzell Ausserrhoden transports trade fair visitors on a journey through three time zones – from the Antarctic via San Francisco to Paris. The 2009 collection entitled "Voyage" builds on an established tradition which it develops further and shows new trends. It bears the distinctive signature of Mira-X and stands for unobtrusive individualism. The high grade furnishing fabrics are presented mainly in fine white with rich variations in harmonious rainbow colours. A dense fabric, geometrical patterns and changing, glossy optical effects complete the line.